Meet Dr. Kathleen J. Diehl
I am proud to be part of the dental field. As a dentist, I am able to keep patients healthy and happy, all while becoming part of each person's family. I love meeting new people and then, three years later, realizing that many of them have become close friends: people I look forward to seeing at their six-month checkups!
As a dentist, I have the opportunity to build relationships with people of all ages, from different walks of life and with unique experiences to share. I appreciate what each person brings to our office and how they include me and our team in their family's story.
Working closely with each patient, I educate the person about specific dental health concerns. Together, we determine the right clinical treatment path for their needs. I also teach them about the changes they can make in their home care to stay healthy and keep their smile beautiful for life.
I'm particularly drawn to helping people transform their smiles. While my dental work is beautiful, it is not just the teeth that transform: I get to watch people regain their self-confidence and show the world their happiest, fullest smiles!
Education
Bachelor degree – University of Rochester, Eastman School of Music
Doctorate of Dental Medicine – Oregon Health & Science University
Through continuing education, I stay at the forefront of dental innovation, as well as keep current on the latest research in oral systemic health. This ensures I am able to provide the best dental care and treatment options to help my patients keep their mouths, hearts, and bodies healthy.
I am a member of the Seattle Study Club, as well as the:
American Dental Association
California Dental Association
San Joaquin Dental Society
Serving Others
I am on the board for the LOEL Senior Center. LOEL is a senior center that feeds our local senior community. They have a daily lunch program and are in charge of Meals on Wheels for Lodi and Lockeford. It is a fantastic organization and one I'm proud to be part of and support. In my opinion, our lobster feed is the best fundraiser event in all of Lodi!
Beyond the Practice
Originally from Reno, I moved to Lodi half a dozen years ago. When I arrived, I had a quiet life with my two dogs.
Within a year I met my husband, my stepdaughter, and my (third!!!) dog. Fast forward several years and now I live in a loud, crazy, wonderful house with twin baby boys, for a grand total of eight family members! It is zany and hectic, but I love them, I love my life, and I wouldn't change a single thing!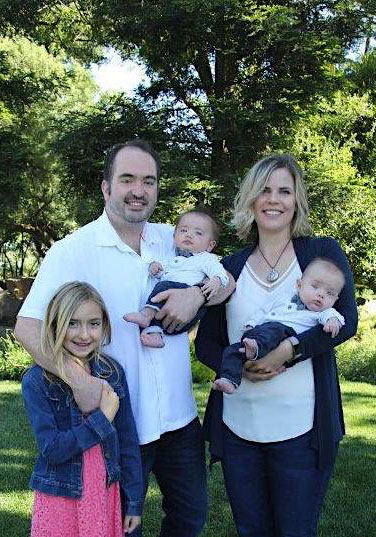 Three things I hold dear in life are family, fitness, and music. When I am not at the office, you can find me first thing in the morning at a CrossFit gym. On weekends, you can often spot my husband and me on the road, training for our next triathlon, or on the river, kayaking and paddleboarding with the kids.
And on Tuesday nights, I rehearse with the Stockton Concert Band as their bassist. Come check out one of our concerts!